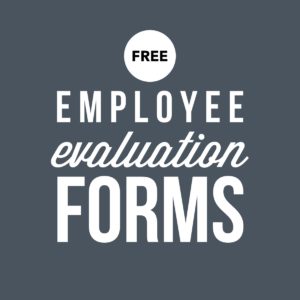 Employee appraisals are an effective way to measure performance of the employees. Regular employee appraisals ensure that the employees maintain acceptable performance levels. It also allows management to determine whether the employees are contributing at the level that allows the company to achieve its organizational goals. Therefore, it becomes vital that management focus in create effective employee appraisal forms that correctly gauge performance of the employees.
An effective performance appraisal form correctly captures the actual performance of the employees. As a general rule, the employee evaluation form should objectively record performance of the employees. It should not contain elements of bias and subjectivity. Fortunately, there are certain basic types of employee evaluation forms that are recommended by HR professionals and experts. These evaluation forms contain the elements of objectivity that result in correct presentation of employees performance during a certain period of time.
Here we will provide some of the basic types of employee evaluation example forms that can help management to correctly record performance of the employees and five performance appraisal forms you can download and use in your company.
Download free Employee Evaluation Form Templates:
Employee Evaluation Example Forms
General Employee Appraisal Form – It is the most common type of employee appraisal form that is used to assess performance of the employees. General employee appraisal form consists of a number of Y/N questions with a general comment section of the evaluator at the end.The advantage of this type of employee evaluation form is that it is fairly easy to administer. It also minimizes the chance of bias and subjectivity in evaluating the employee. However, the downside of this type of evaluation form is that it does not provide in depth information of the employee performance during a particular period.
Essay Employee Evaluation Form – This is another basic type of employee evaluation example form that is recommended by HR experts. Essay evaluation form requires evaluator to write out statements that accurately describe performance of the employees. The evaluation form consists of:

short answer section,
competency ratings section, and
general comments sectionAdvantage of essay evaluation form is that it gives a chance for the evaluator to provide detailed comment regarding the performance of the employee. However, the detailed comments increase the chance of biased evaluation without properly projecting actual performance of the employee. In addition, it is possible that a hurried evaluator will not properly provide all the details regarding employee performance.
Graphic Rating Employee Appraisal Form – Graphic rating employee appraisal form is the oldest technique to appraise performance of the employee. Evaluators rate employee on a certain scale on various attributes such as attitude, judgment, cooperation, punctuality and others factors.Advantage of this type of employee evaluation form is that evaluators can quickly fill this form without much delay. However, the downside of this scale is that it is too restrictive and does not accurately detail performance of the employee.
360o Performance Appraisal Form – With this method employees receive anonymous and confidential appraisal from various people. These people could be management, peers, team members, and customer/suppliers etc. 360o appraisal form concentrates on subjective areas such as teamwork, character, and leadership trait of the employee. The technique allows management to gain in-depth information about a particular employee.The downside of this type of employee evaluation form is that it is that takes a lot of time to administer. In addition, this type of employee evaluation method may create an atmosphere of suspicion if the information in not honestly and openly managed.
Forced Ranking Appraisal Form – Forced ranking groups employees are ranked in terms of forced distribution. For example, the ranking may place 10% or 20% of the employees in the top category, 70% or 80% in the middle, and 10% percent in the bottom category. The advantage of this employee performance example form is that it creates a high performance culture in which the workforce continuously improves. However, this type of employee appraisal may create cut throat competition and individualism while sacrificing team work and collaboration between employees.
Are you looking for free performance review templates you can use for your employee? Download these five employee evaluation forms for free:
Best Practices for Employee Evaluation Forms
An employee evaluation is an annual assessment of an employee's job performance throughout the year. It is usually conducted every six months, towards the end of the year or the month in which the employee joins the workplace, depending on the particular organization and its system.
When conducting performance reviews, managers need to use a solid employee evaluation form which is a document that helps measure an employee's performance at work. Employee evaluation forms are the ultimate key for the success of a company's performance management process, given how they help set performance goals, provide useful feedback, and inform employees about rewards and recognition, to name a few. The right form will help set performance standards whether you're providing positive or negative feedback to individual employees. It's a good idea to give constructive feedback on a regular basis to identify areas of improvement, increase employee engagement, and improve an employee's performance.
What Should Be Included In An Employee Evaluation Form?
There are many things that go into creating an employee evaluation form, such as basic information about both parties.
Essential information for an employee evaluation form includes the following items:
Name of the employee
Employee ID
Employee position or designation
Name of reviewer
Review date
Reviewer title
A proper, clear rating system
A separate section for written comments
A space for employee performance goals
Space for signatures of both the employee and the reviewer
Why Should I Use An Employee Evaluation Form Template?
There are a plethora of different employee evaluation form templates that you will find online or elsewhere. But why should you go for a template? Why not make a form yourself? Well, it makes sense to use a template because it will help you have a standard or fixed performance review document that you can use to assess your team members' workplace performance. There are a number of performance review templates you can use to save time and a lot of hard work.
Once you've collected all the information pertaining to your purpose of the appraisal or performance review process, you can choose a useful template that helps you categorize the information accordingly.
There are some common and popularly used employee evaluation templates such as:
General Employee Performance Evaluation Template
Essay Employee Review Template
Peer Review Form
Group Evaluation Form
Introductory Period Performance Review Template
30-60-90 Review Template
How Should I Write Comments On An Employee Evaluation?
When it comes to "what comments to write on an employee evaluation?" it entirely depends on the position of that particular employee. Generally, though, the rule is to cover all fundamentals such as job description, work quality, communication skills, attitude in the workplace, collaboration skills, time management, ability to meet deadlines, reliability, trustworthiness, problem-solving skills, and many more. When you include the appropriate evaluation process, it results in a more effective annual reviews process.
On the other hand, in terms of "how to write a comment on an employee evaluation form," there are a few essential things that managers need to bear in mind.
Be Clear, Specific, and Honest
The comments that you write on your employee's annual performance review need to be super clear, honest, and specific. For instance, you can't write something like 'your work exceeded expectations' because this statement is extremely vague and doesn't let the other party know what exactly is being praised here. Being clear also helps differentiate between poor performance and positive feedback for team members.
So, try to pinpoint particular aspects of the employees' performance and convey them in a manner that's transparent and honest.
Review Both Past and Present Performance
The ultimate goal of employee evaluations is to draw a comparison between an employee's past and present performance. To be able to do that, managers need to review both performances because it will help them draft appropriate comments in terms of what and how an employee used to perform and how they perform now. You can learn about new skills your staff has learned, build rapport for relatively new hires, and encourage open discussion. Looking back is hard work, but it gives you specific examples of a worker's performance to encourage positive attitudes about the performance evaluation process.
Be Careful with Your Words
There's always a way to say things, and when it comes to employee evaluations, managers need to be super careful with their words. This is to stop yourself from accidentally demotivating your employees or hurt or offend them. It is best to say things in a positive manner and provide constructive criticism instead of focusing on their faults and what they did wrong.
Best Practices for An Employee Evaluation Form
There are multiple ways to create an employee evaluation form and hundreds of things that you can include in it. However, that certainly doesn't mean that managers should end up drafting a form that's highly confusing and kills the entire purpose of an employee performance review.
We've rounded up some of the best practices that managers should consider when creating an employee evaluation form.
Don't Make It Too Formal
Employees generally look forward to feedback from their managers or employers, but at the same time, they are also looking forward to less formality. You can create better performance evaluations with staff that will own performance, especially your top performers who do a good job. It also helps to have a two-way conversation for better results for the entire process.
Try to ensure that the employee evaluation form isn't too formal because it will help inculcate a culture of honest, open, and transparent communication between the employer and employee and is likely to build greater trust between both parties.
Set Clear Goals
One of the key requirements of a performance appraisal form is the mention of clear and concise goals. Employees need to know where they stand at the moment and how far they can go, given their potential and overall capabilities. Managers who use the employee reviews process to set goals find staff will create an action plan for future goals that has a positive impact on their careers. The result will be a more effective employee evaluation process and is a good practice that aligns with the purpose of an employee evaluation.
The Form Should Be Easy to Use
An employee evaluation form should be easy to use, easily understandable, and should contain clear instructions for both the reviewer and employee. The reviewers need to know exactly what the purpose of the form is, what it aims to achieve, and the primary focus of the review. A form shouldn't just be for HR professionals, but usable for annual performance reviews that helps managers without enough time.
Employee evaluation offers a simple way to assess your employees' annual performance and set the goals for the following year. Therefore, managers need to ensure that the review form they use is solid, effective, and provides clear objectives.