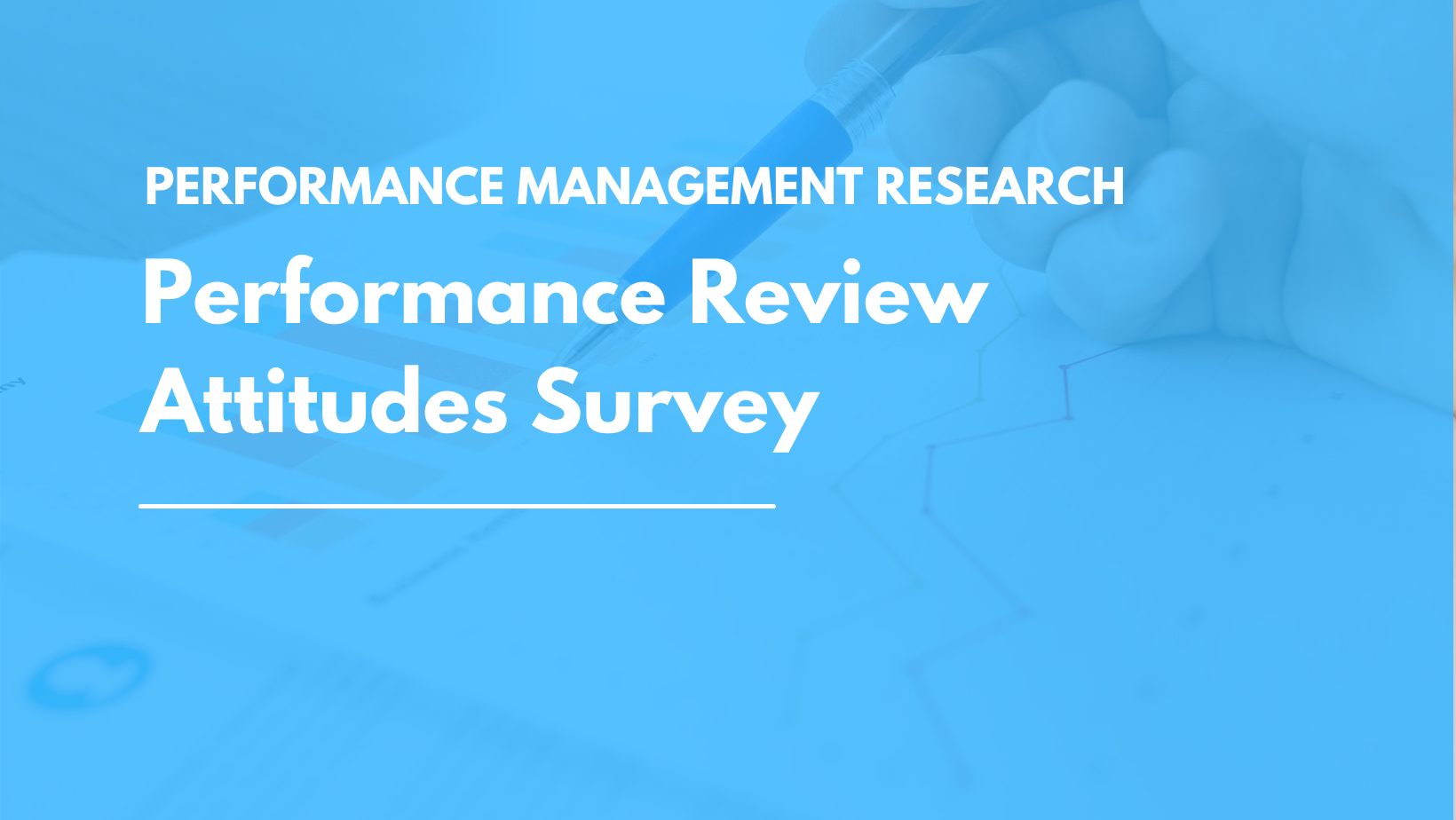 The global pandemic changed many areas of life, few changed as much as the business work environment. Many organizations shifted to a large percentage of their staff working from home or working in a context with much fewer in-person interactions with one another. This report is a research study into whether the changes in how businesses operated were reflected in the continuation of performance reviews and the current employee and manager attitudes towards the employee evaluation process.
Your company is likely seeking more information about whether or not to continue performance reviews during this time. You also want to understand their effectiveness and how to maximize performance management, especially in times of remote staff.
You are welcome to include any of the images or stats mentioned in this survey report in your blog posts or content. Please link back to https://performancereviews.net/attitudes/.
2021 Performance Review Attitudes Survey
Performance management can have a direct positive benefit to organizations that run them correctly. Many studies have been performed in the past several decades about the effectiveness of performance management, and specifically performance reviews, and smart companies are regularly asking the question, "does our performance management process result in a positive ROI and the best from our workforce?" The question is even more timely today with the disruption in business the past year. This survey is designed to discover the current attitudes towards performance reviews and to answer the question, "did companies stop using performance reviews during the pandemic?" The answer to the last question might surprise you.
Key findings:
Companies continue to use performance reviews despite the pandemic.
Managers believe performance reviews are effective (73%) while 62% of employees believe they are ineffective.
Money and benefits are the driving force for why employees look for a new role.
Did the pandemic change how companies do performance reviews?
The global pandemic changed so much for businesses and their leadership and employees. One of the core questions we wanted to answer with this survey is: how did the pandemic change performance reviews for businesses? What we found was surprising.
In the survey, only 2% of respondents indicated their organization has canceled performance reviews due to the pandemic.
Does your current job require annual employee performance evaluations?
Yes
No, we've never had performance reviews
No, we haven't had performance reviews in 1+ years
No, we stopped due to the pandemic
With 72% reporting their companies continue to use employee evaluations as a part of the performance management process, it appears the pandemic didn't have an impact on discouraging use of performance appraisals. That doesn't mean the pandemic didn't have an impact on the process. It is likely today that you'll be doing some reviews remotely and exploring the most effective ways to provide feedback to remote staff.
Are Performance Reviews Effective?
It's vital for managers and staff to see the value in employee evaluations for them to be effective. If one or both sides believe the tool is ineffective for improving performance, this belief will be reflected in the commitment to the performance management process. Unfortunately, the 2021 Performance Review Attitudes survey found that while managers believe annual performance evaluations are an effective tool as a part of the larger performance management process, many employees do not share the same belief.
Believe Performance Reviews Are Effective
Believe Performance Reviews Are Effective
An interesting dynamic appeared as we reviewed the data by age group. For both employees and managers, a majority of those in the 18-24, 55-64, and 65+ age ranges believe that performance reviews are ineffective while a majority of employees and managers in the 25-34, 35-44, and 45-54 age ranges believe they are effective.
A common reason for why employees believe the performance appraisal process is ineffective is the annual nature of the evaluation process. Many feel like once a year coaching isn't enough and introduce too many biases into the process. For example, many evaluations have a recency bias as managers focus on just the most recent activities.
Managers and employees alike believe the annual performance review processes are outdated (64%) or cumbersome (73%). HR professionals should find a balance between what they require and how they want it delivered and an efficient process for employees and managers. When a process takes an unusual amount of time, managers and employees begin to sour on the positive aspects.
Recommendations:
Encourage managers to meet more frequently with employees to provide coaching and advice.
It might be time to review your performance review process to ensure it's not outdated or cumbersome.
For younger staff, create career development experiences. This generation wants experiences and by offering hands-on training and coaching and incorporating the experience into performance evaluations, they will be more likely to value annual performance reviews.
What would cause an employee to leave their job?
An area of on-going study for our team is why people leave their jobs. In this survey, we asked this question:
If you're currently employed, what is the most likely thing that would cause you to leave your current job?
We provided these options and the ability for the survey participant to enter their own answer. (Most people were serious in their response, our favorite unserious response was "Zombie Apocalypse.")
More money/benefits (36%)
Lack of respect (19%)
Micromanaging manager (12%)
Ineffective career development (10%)
Challenging coworkers (7%)
Manager provides inadequate feedback (5%)
Other (11%)
Considering the current economic circumstances, we weren't surprised that more money/benefits was so high. There wasn't a difference between genders for the #1 response of more money/benefits and all age groups had it as their number one consideration. The percentage of recipients in each age group answering more money/benefits range from a low of 33% for those aged 35-44 to a high of 44% for those aged 55-64.
The Performance Review Attitudes Survey was conducted online with 1,000 people across a variety of industries in the United States.
Feel free to use any of the information, charts, graphs, or data from this survey in your own articles. Please link back to https://performancereviews.net/attitudes/ when referencing the data. You are welcome to download and republish the infographic below in its entirety. Please reference the survey with this link: 2021 Performance Review Attitudes Survey